By David | Featured, Recent News
While some ads still try to get people to stuff envelopes and make big money, in theory only, there are work from home jobs that are not scams. If you can head online to work virtually and pick up the phone and communicate well with others, for example, you can make some money today while still remaining at home in your pajamas with your kids.
In fact, CNN Money, "Commute to work in 30 seconds" demonstrates work from home opportunities like homeshoring…
"We all know that plenty of call-center jobs have been outsourced to India and elsewhere overseas in the past few years, but another trend, sometimes called "homeshoring," has gotten comparatively little attention.
Take Alpine Access: The company handles calls for retailers like J. Crew and 1-800-Flowers using 7,500 home-based agents – more than 80 percent of whom have 4-year college degrees, with an average of 17 years' work experience. They're in it mainly for the chance to set their own hours and avoid having to commute. Alpine says it gets about 80,000 job applications a year. You can apply online at www.alpineaccess.com.
Altogether, according to a recent study by tech research firm IDC (www.idc.com), about 112,000 home-based agents are now working in the U.S. IDC predicts that number will grow to 300,000 – or roughly the population of St. Louis, Mo. – by 2010.
The customer-service company that gets the most 800-number calls – its agents handle about a billion per year – is Convergys (www.convergys.com), which right now is tripling the number of its home-based agents from 1,000 to 3,000. (Convergys also has 60,000 employees in its 55 U.S. call centers.)"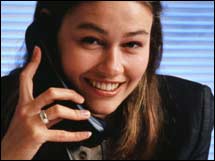 Commuting the Right Way
So head online and apply to give virtual assistance. Reach out and connect with others & make money from home!